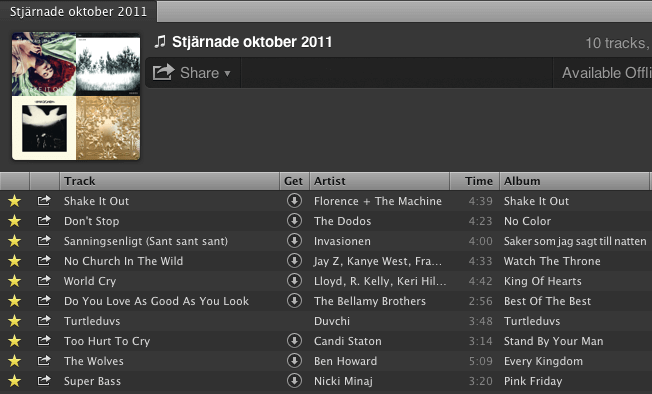 Här är de låtar jag lyssnat mest på den här månaden! Shake it out blev en favorit direkt efter första lyssningen, Don't stop fick jag från Oskar på min födelsedag och Sanningsenligt är Invasionens bästa låt.
Ofta brukar jag spara låtar jag hör på stan med hjälp av en app, som World cry och Do you love as good as you look och det funkar bra! Magnus Thure tipsade om Too hurt to cry på Twitter och likadant med The Wolwes som Kenneth rekommenderade. Riktigt fina!
Super bass var jag bara tvungen att lyssna in mig på efter framträdandet på Ellen och No church in the wild snappade jag upp i en Vimeo-tolkning av låten som Joacim tipsade om.
Klicka på bilden för att lyssna på låtarna eller använd den här länken!