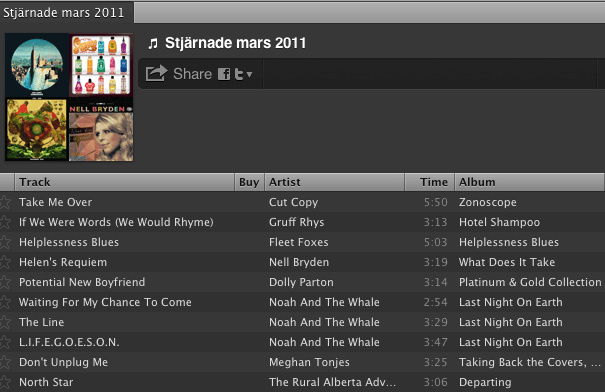 De här låtarna har gått varma under mars! Dolly Parton dyker upp på ett hörn med en riktig stänkare som jag aldrig hört förut, riktigt lökig om jag får säga det själv, och Noah and the Whale platsar med tre av de bästa låtarna från nya plattan Last Night On Earth. Meghan Tonjes som jag älskar att youtuba fick vara med bara för att jag gillar hennes röst så mycket, Cut Copy känns gjutna och så snubblade jag över en låt med mitt namn i. Så den fick vara med. Inga konstigheter här inte!
Jag vet redan nu att april kommer bjuda på en underbar lista! Johan berättade för mig nu i helgen att "det här är vår låt" utan att jag ens hört den. Den är med! Riktigt bra! Until then! Better keep your hands off my potential new boyfriend!
Listan lyssnar du på genom att klicka på den här raden eller på bilden ovan.